This post brought to you by Nutrisystem . All opinions are 100% mine.
After Mason turned a year I thought the weight would start to drop off, it seemed like I was one of those women who held on to baby weight while breastfeeding. It seemed the scale was stuck.
And then I got on Nutrisystem®, I lost the weight I wanted to lose and I have never felt better about myself. I really feel like I learned a lot about the best ways to eat.
It seems that with Kyla my weight issues are similar. I love quite a bit after having her but I haven't lost a pound since. Not one that stayed off anyway. I've been thinking about doing Nutrisystem again since I had such great success with it and I'm loving the new program the Nutrisystem Fast 5.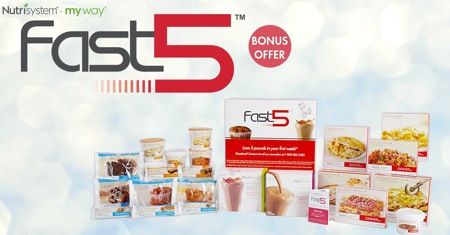 The 'Nutrisystem Fast 5 program is designed to help you lose weight, FAST so that you can jump start your weight loss and feel good about yourself right from the beginning. It comes free when you start the *New* Nutrisystem My Way program.
I don't know about you but when I first start a new diet or exercise routine I want to see results and if I don't seem them right away I get discouraged. Sometimes it's even enough to make me quit. Turns out, I'm not the only one who feels this way. Research suggests that a long term predictor of weight loss success is how successful you are in the beginning of your program. The more successful you are in the beginning of your program the more successful you will be in the longer term.
Fast 5™ is designed to help you be successful, quickly. Fast 5 promises a 5lb weight loss in the first week backed by a money-back guarantee.
When you sign up for Nutrisystem® My Way® program you'll get the Fast 5 jump start kit for free, a unique one week meal plan which includes 7 breakfasts, lunches and dinners. You'll also get all new shakes. The EnergiZING is designed to help rev your metabolism and is packed with B Vitamins, caffine and green tea exract. The Craving Crusher shakes are packed with protein, fiber, vitamins and antioxidants. They're made to have when you experience a caving so you don't ruin your hard work!
I'm super excited about this program and hope that once I'm breastfeeding I can give it a whirl!
Have you ever tried NutriSystem? How important are quick results for you and your diet?