This post brought to you by Bolthouse Farms. All opinions are 100% mine.
B is a huge fan of Blothouse farms smoothies so I was happy to work with them on a campaign, I was given a bunch of coupons to try them out. There were so many flavors to chose from, 30+ flavors to be exact, my grocery store didn't have them all otherwise I would have been picking and choosing for hours!
Being the coffee lover I am I gravitated to the Salted Caramel Coffee and the boys were drawn to fruit juices. We had gotten a huge thing of the carrot juice because they didn't have any small ones and we wanted to try it. Over the last week we've been drinking the juice but we've also been using it in recipes, we've been making yummy smoothies with fruit and vegetables we've had on hand and I also decided to try my hand at Creamy Carrot Soup. Traditional Carrot Soup uses carrots but this one uses Bolthouse Farm 100% Carrot Juice and is amazing!
This soup will be done in an under an hour. Finely dice 4 stalks of celery, 1 large potato and 1 small onion. Add to a pot with 2 1/2 cups chicken or vegetable broth and bring to a simmer.
While the vegetables are simmering in a small pot on medium to high heat melt and brown 1 stick of butter. Once it's melted and browned add 1/2 cup of flour and mix
Then add 8oz of Bolthouse farms 100% carrot juice to the butter/flour mixture
Pour the mixture into vegetable base, mix and then add in 1 cup of whipping cream.
Season with 1 teaspoon of Garlic salt and 1 teaspoon of ground pepper.
Let simmer for another 20-30 minutes or until all the vegetable are soft. Serve and enjoy!
This soup is delicious and all you would need is a small bottle of 100% Bolthouse Farms Carrot juice!
Ingredients
4 Stalks Celery, finely diced
1 Small onion, finely diced
1 large potato, finely diced
2 1/2 Cups Broth
1 stick butter
1/2 cup flour
8oz carrot juice
1 cup whipping cream
1 teaspoon garlic salt
1/2 teaspoon ground pepper
Directions
Finely dice 4 stalks celery, 1 small onion and 1 large potato add to a large pot on medium heat. Let heat for about 3 minutes stirring constantly then add 2 cups chicken broth. Let simmer.
While the base is simmering melt 1 stick of butter on medium to high heat. Add 1/2 cup flour mix. Then add 8oz carrot juice.
Add the butter/flour/carrot juice to the vegetable broth base. Mix and then add 1 cup of whipping cream.
Add 1 teaspoon garlic salt and 1 teaspoon ground pepper
Let simmer until the vegetables are soft about 20-30 minutes
Serve and enjoy!
http://littlebgcg.com/2013/11/creamy-carrot-soup.html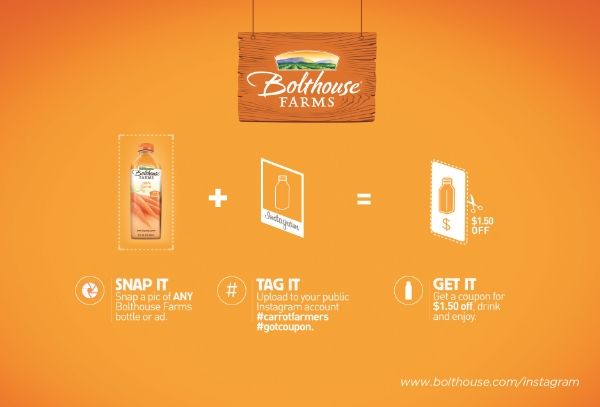 Who are the people behind Bolthouse Farms? Carrot farmers! These carrot farmers not only grow carrots, but also make delicious fruit and vegetable juices. Bolthouse Farms carrot juice & carrot juice blends are made with carrots that are grown on their farms – they plant them, grow them, and harvest them. Bolthouse Farms features 30+ beverages, ranging from carrot juice and carrot juice blends to Amazing Mango juice to breakfast smoothies and protein shakes. They even feature holiday egg nog treats. You can use them in recipes or even a mixer in cocktails.
Right now you can get a $1.50 off coupon by participating in the Bolthouse Instagram Promotion.  Snap a picture of a bolthouse farm product, upload it to Instagram and tag it with @BolthouseFarms, #Carrotfarmers and #getcoupon.