This post brought to you by Walmart. All opinions are 100% mine.
The holiday season is all about giving. Sure it's awesome to recieve but seeing the look on someone's face when you've given them something that they truly wanted or needed can never be beat.
The Holiday season as never meant so much to me as it did once I had children. I love love love seeing the look on Mason's face when he opens up his presents, he get so excited about every thing he gets and is so thankful.
I'm so happy that he is grateful for everything that he gets. We make sure to emphasize to him how lucky he is to be able to have Christmas and other holidays like it.
Since it is ALWAYS better to give than recieve Walmart will be giving a total of $1.5 Million in grants to benefit local communities across the country and help provide the basic needs that people are lacking this Holiday season like food, diapers, coats, baby formula and winter clothing.
Walmart is allowing their consumers to help determine which organizations will get the support they need and deserve.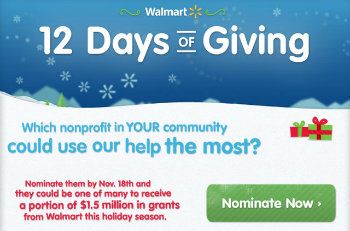 Between November 1st and November 18th YOU can vote for local non profits on Facebook. Then on December 10th Walmart will start the 12 Days of Giving by announcing funding to the winning nonprofits that were nominated on Facebook.
I'm choosing to nominate Mercy House.
Mercy House has an apartment building were they house families and homeless people and provide for them with food, clothes and toiltries. As a community we all help Mercy House when we shop at one of their two thrift store locations were all the proceeds go to supporting Mercy House.
When a family is able to move out of Mercy House they are taking to the thirft stores so that they can pick out things for their homes and families. It's an amazing non-profit that I love supporting.
To Nomiante YOUR local non profit visit the Walmart Facebook page. You'll need the following information
Nonprofit Name
Nonprofit contact info
nonprofit Website
Photo of the Nonprofit (Optional)
I easily found all of this information online!
What local non-profit would you like to nominate? Tell me about them!