This Week: 124.6
Total Weight loss this week: 0.8
ah. Not surprised by the less than a pound lost this week. I had a couple of pitfalls over the weekend and then a yummy Mint Chocolate Chip Cookie pitfall on Wednesday and Thursday. Honestly I'm just happy I didn't gain!
I'm not too worried about it though, I'll make up for it this week! And I was really good with doing Pilates! I did it every other day this week and I can already feel my body getting my toned. Read my muscles have been really sore! But no pain no gain right?
I've also been really good with drinking my 80oz of water per day! So my Monthly Goals have been working out so far! Today I had these as my dessert: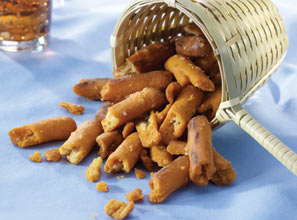 They're Buffalo Pretzels Bits. They were DELICIOUS! I wish I could have had more. True serving sizes STINK! But it's obviously way better for me!
Later in the week I'll share with you some of my favorite workouts that you can do at home!
Just so you know:
NutriSystem provides my NutriSystem meals for me however all opinions are 100% my own and weren't influenced in any way, I wil always be honest with you, if you have any questions you can go ahead and ask me in the comments below! I will get back to you asap!
Would you like to lose weight and get healthy on Nutrisystem too? Visit NutriSystem today or call 888-853-4689


Clicky Click Love Please-Because You Love Me Him! 🙂