First the Super Fun Stuff.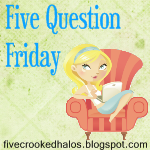 1.
Would you rather be on ABC's Extreme Home MakeOver or TLC's What not to Wear?
Is this really a question? ABC's Extreme Home Make-Over OBVIOUSLY! 1,000 worth of clothes or a pimped out house. Um pimped out house.
2.
Do you have any tattoos?
No. I almost got one once but as soon as I heard the needle power up I chickened out. So glad I did though.
3. D
o you tell your kids about things you did growing up?
Not yet but Mason's only 1 so give it time!
4.
If the traffic signal turns yellow, do you stop or speed up?
Depends how close I am to getting through! This question reminded me of this. The whole thing is funny but skip to 4:19 for the super funny part.
5. What's your preference:
chocolate or chips?
Depends on my mood but usually chips and dip.
Okay NEXT order of business
Two Weeks Ago: 135.4
Last Week: 137.0
So I lost 1.8lbs which means I lost what I gained last week and then some. Even if the "some" isn't that much!
Today is my first day on NutriSystem! So far I've only had breakfast, a breakfast burrito to be exact. With it you also get to eat other grocery items, a Fruit and a Protein or Dairy. I chose to have an apple with my breakfast burrito and for my dairy I had my coffee. Can't live without my coffee in the morning. The breakfast burrito was actually pretty good and it has beans in it and I hate beans so that's saying a lot lol.
I'm actually pretty excited to have lunch and then dinner and DESERT because I'm interested to see if it keeps me full and if it's yummy!
Goals for me are always the same:
Stop Being Lazy and Workout More!
Thinking about joining NutriSystem or at the very least learning more? You can check it out here or call 1-888-853-4698. NutriSystem is suppling me with my meals free of charge as a part of their NutriSystem Blogger Program. All opinions are 100% mine and no monetary compensation was given. I will always give you my honest opinion of the program!
Clicky Click Love Please-Because You Love Me Him! 🙂