I haven't done this in a while but I <3 it!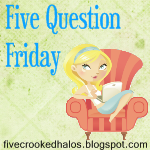 1. Do you

regift

…and if so, do you have a

regifting

horror story?
For the most part I don't re-gift but that's because so far all of the gifts that I have gotten that I don't want and therefore would re-gift I would NEVER give to someone else! It would reflect poorly on my taste!
2. Do you know what you are getting for Christmas this year?
No idea. Most of the things I *really* want are way to expensive for one person to buy *ahem* a DSLR. In all reality while there are things I need/want I'm just glad that Mason will be having a great first Christmas!
3. Who brings the most gifts in your family, you or Santa?
This is the first year I have a little one. So I'm not sure how we're doing the whole what Mommy and Daddy got you vs. what Santa got you. Since he'll have no idea what's going on we'll wait until next year to figure out that!
4.

What store do you love to by jeans from?
Forever 21. They're good quality IMO and fir me nice. And because they're so cheap I can get them in every wash!
5. Christmas meal: Big, All Out Meal or Snacks and Apps?
On Christmas Eve we do a BIG all out meal and apps. This year I'm not sure what we're doing on Christmas Eve, B and I were just talking about that. In New York on Christmas Day I do brunch at my Aunt's, Italian Style so seafood is included YUM! This year I'm going to be in Virginia so we're doing brunch at B's moms. I'm super excited for that too last time we did brunch at her house we had some killer bacon and egg sandwiches! The day after Christmas we're going up to NOVA to B's grandparents house! I'm pretty excited for that too!