A while ago I did
this post
and ever since then I wanted to keep it up but never did. So now I am 🙂
I don't think there's anything sweeter than a sleeping baby. Or even a sleeping spouse 🙂 They always look so peaceful and calm. So every Sunday because Sunday is the perfect day for sleeping in and relaxing I would love if you linked up your photos of your sleeping baby whether it be your children, your spouse, your furry baby or even other people's kids 😉
Please join me this week in the 2nd edition of Sleepy Sunday! Just Grab my button post it along with your Sleepy Sunday and link back to me 🙂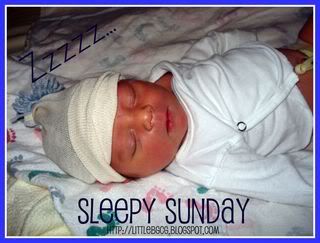 This week I took Mason and my siblings to the park. As soon as we got there Mason ate a little and then we went on the swings…This is Mason when the swing wasn't moving:
Screaming and in general just not a Happy Camper!
This is Mason while I was swinging!