I'm not sure if any of you saw it but in my "What I'm Reading" Section on my sidebar I was reading Plain Truth by Jodi Picoult…Now I'm reading New Moon…but first back to Plain Truth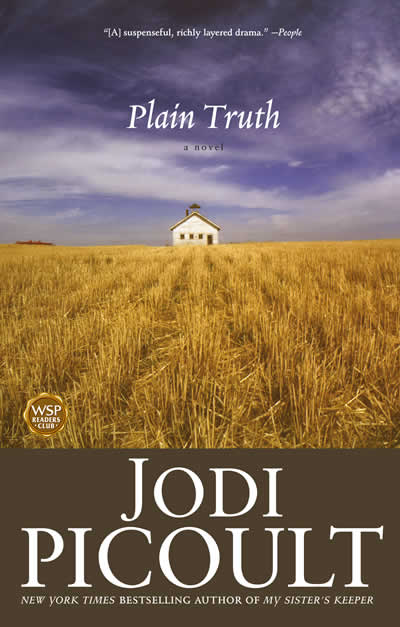 I've read Jodi Picoult before in fact I did a review on Salem Falls. Here's a quick synopsis of Plain Truth:
"When a young Amish teen hides a pregnancy, gives birth in secret, and then flatly denies it all when the baby's body is found, urban defense attorney Ellie Hathaway decides to defend her. But she finds herself caught in a clash of cultures with a people whose channels of justice are markedly different from her own… and discovers a place where circumstances are not always what they seem." –Taken from Jodi Picoult's website
So what did I think?
Predictable again just like the last couple of books I've read of hers. I waited MONTHS to read another one of hers because I figured I had just gotten to used to her writing but I knew a MAIN part of the story right away. It was so obvious to me. She tries so hard to be unpredictable that she's predictable. Maybe I'm just thinking to hard about it instead of just reading. Anyway it was quick read and it was a good book and I do recommend reading it especially if you haven't read one of hers before. My Sister's Keeper is STILL my favorite of hers.
Now I'm reading New Moon I've only got about 100 pages left and it's pretty good so far…I'll do a review on that as well although I wouldn't be surprised if EVERY one of you has already read it. That's one of the reasons I didn't read it sooner to many people were crazy obsessed. And I can promise you one thing while the books are good I'm NOT crazy obsessed…at least NOT YET.
After New Moon I've a got a Sookie Stackhouse novel ready to read (both books courtesy of B's Mom). And then of course the third installment of the Twilight Series…I doubt I'll even get that far though with the baby coming so soon. I'm hoping I can at least finish the Sookie Stackhouse book (Dead After Dark)!